Aluminum sheet for jar cap
1.Chemical Composition : Alloy type 8011 H16 According to EN573-3
2.Size and deviations from the size:
-Thickness tolerance -0+0.5mm
-Width tolerance -0+0.5mm
-Length tolerance -0+0.5mm
3.Deviations of the forms/shapes:
- Deviations of the straight for hardness of the longitudinal border max 1mm
- Deviation of flatness--max 4mm
- Rectangularity: max difference in the diagonals--3mm
- Dislocation between the sheets--max 2mm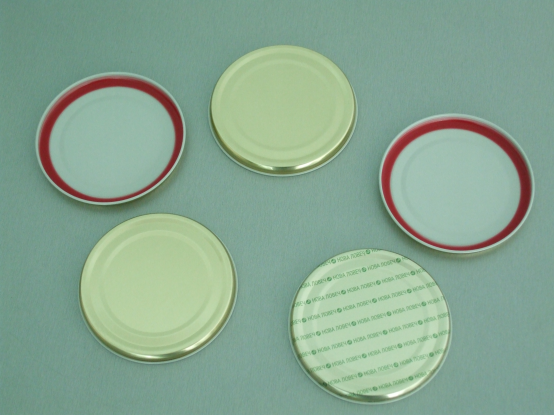 4.Surface of the sheets
  The surface of the aluminum sheet for jar cap shall be oil-free, this is controlled by testing with clean natural cotton pads, dipped in 100% distilled water. Laying is steady, without stopping from end to end. Level of oil free, B,C, or D.
Droplets, spots caused by corrosion and burnt lubricant on the surface of the sheets not acceptable.
Minor scratches and staining not acceptable as well.
Surface type: 
a.Plain mill finish aluminum sheet for jar cap
b.DOS oil lubricated finish
d.One side golden/white/red/blue/black,etc other colored, other side protective lacquered 
e.both sides clear/transparent lacquered 
5.Mechnical data:
Resistance to stretching Rm--Min 180 Mpa  Max 220 Mpa
Yield strength Rpop Min 145Mpa
6.Packaging:
  Wooden case packing could guarantee the quality of the materials during transportation and storage.
All stacks of the aluminum sheets are bound firmly in nylon, and respectively fixed in wooden cases.
Chemical Composition

Alloy

Si

Fe

Cu

Mn

Mg

Cr

Ni

Zn

Ti

Other

Aluminum

Each

Total

8011

0.4-0.8

0.5-1.0

0.1

0.1

0.1

0.1

-

0.1

0.05

0.05

0.15

Remainder
Temper

Thickness mm

Tensile Strength 
Rm MPa
Yield Strength 
Rp0.2 MPa
Elongation % 
A50mm

Bend Radius

Hardness HBWa

H14 

0.20-0.27

min.

max.

min.

max.

 

180°

90°

 

120

170

110

 

1

 
 

41

H16

0.20-0.27

160

 

145

 

1

 
 

50
---