5052 aluminum strip for ring pull can lid
1. Typical Products
 
5052 aluminum ring pull can lid strip: thickness: 0.22 - 0.5mm; width: 1280mm; 5052/5182: H19 alloy
2, Product Features
(1) Ring Pull stock generally adopts 5182 aluminum alloy processing, the Ring Pull Can Lid material generally use 5052 and 5182 aluminum alloys processed;
(2) flexible, stamping deformation is not easy to crack;
(3) small density, light weight, smooth surface, feel good;
(4) environmental protection is easy to recycle and reuse.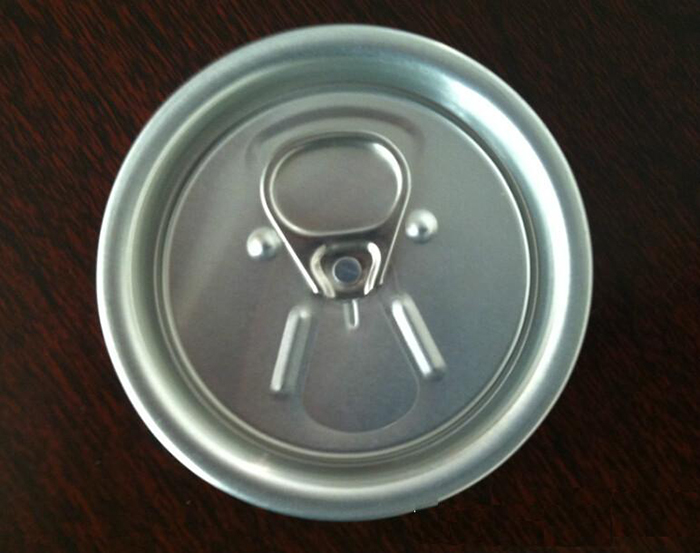 3. Main Quality Requirements
 
Surface processing is good, does not allow to have a black, marks, tire tracks, corrosion, pressure folds, creases, straightening roller printing, oil stain, stick injuries, scratches, metal and non metal pressed into etc. obvious defects, the strip flatness degree greater than 10I (or wave height is less than or equal to 3 mm, wavelength is preferably more than 400mm).
4. Production Control
(1) strict control of good width tolerance.
Thickness tolerance: + 0.01mm (preferably 0.005mm)
Flatness requirements: height less than 3mm, within 1 meters of the wave number is less than 3;
(2). Mechanical properties:
Yield strength: 295-380Mpa;
Tensile strength: 355-420 Mpa;
After baking: yield strength: 320MPa; tensile strength: more than 360MPa; the elongation rate: = 5.5%
(3).  plate shape control:
Combined with roll, bending roll, spray the use of control good flatness, ensure hot machine convex degree control between 0.1 ~ 0.8%, hot online visual without obvious wave.
No end edge crack, roll end neat, no staggered pyramid.
5. Casting Process Control Points
(1) to control the content of Na, to avoid excessive sodium content, the emergence of sodium embrittlement (memory can be associated with the Nazis);
(2) note that the addition of gas, refined, to prevent the subsequent rolling of large cracks and cracks;
(3) note that in addition to the slag initial gas and other metallurgical quality, to prevent the use of the slag caused by the customer when the explosive tank.
6.  Hot Rolling Process
(1) hot rolling mill process: large single side milling 15-20mm, side face milling 10-15mm;
(2) heating system: the furnace gas temperature 490 degrees, 33 hours of heat preservation, baked temperature 475-485;
(3) roller type: -0.02mm;
(4) emulsion index: according to the actual production conditions at the time of hot rolling;
(5) under the machine thickness: to meet the process requirements between 6.0-6.5mm, as far as possible by the lower limit control;
(6) surface control: the hot surface in a flat road, the first coiling and second coiling can have uniform white phenomenon, final coils via sub surface exposed metallic luster and color uniform, no white and aluminum adhesion phenomenon. Surface does not allow scratches, scrapes, sand hole, and so on the depth of the defect, can with the imprint of mild steel, mild trachoma, slight pitting, the edge can be cut within the range of the weight of the edge of the skin.
(7) flatness control: with roll, bending roll, spray the use of control good flatness, ensure the hot machine 8 crown control between 0.1 ~ 0.8%, hot online visual without obvious wave.
(8) appearance quality: end surface of edge crack, roll surface neat, no staggered pyramid.
Through the factory technology and scientific research departments, make unremitting efforts, Henan Signi Aluminium lid stock, the Ring Pull stock output has reached 4000 tons. Superior product quality and good after-sales service, has won the praise of users at home and abroad.
---